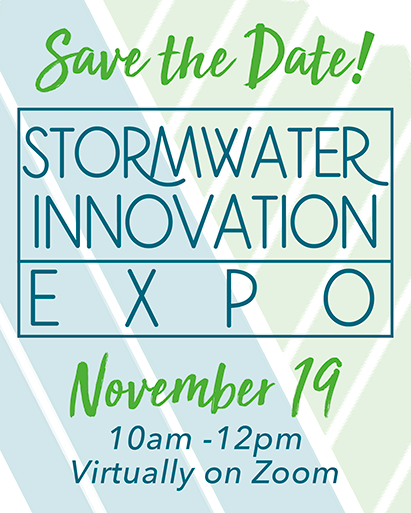 Our Trade Show is Back!
Join us November 19 at 10am via Zoom for our second Stormwater Innovation Expo!
Last October, we held our inaugural show, which was a resounding success.
This year, we are moving the event online. It will still be a great opportunity to hear from leaders in the industry, engage with similar and potential partner organizations, and provide a chance to check out the latest and greatest trends in stormwater management technology and professional services.

Featured speakers include RI General Treasurer Seth Magaziner and Janet Coit, Director Rhode Island Department of Environmental Management.
The event is free and the Zoom login information will be sent to you after registration.
Sponsorship and virtual ad book opportunities are available. Email Greg Gerritt at environmentcouncil@earthlink.net for more information.
2021 Green Infrastructure Coalition Meetings
Statewide Meetings: March 18, 2021, September 16, 2021
GIC Trade Show: October 21, 2021 (TBD whether virtual or in person)
Providence Meetings: 4th Wednesday of every month
East Bay Meetings: 4th Tuesday of every month (Zoom Link)
PSIC: See shedule on the Stormwater Innovations website
Follow Us On Facebook

The Coalition on Facebook
RI Green Infrastructure Coalition
The Green Infrastructure Coalition (GIC) includes not-for-profit organizations, architects, designers, builders, city planners and state and local policymakers as partners, who work together to promote nature based solutions for cleaning runoff pollution. Nature based solutions create pathways for rainwater, melting snow, and other run-off to avoid pavement and infiltrate into the earth.
The GIC leadership represents a wide range of Rhode Island environmental organizations, including John Berard of Clean Water Action, Topher Hamblett of Save the Bay, Sheila Dormody of The Nature Conservancy, Sara Churgin of the Eastern RI Conservation District and Lauren Carson of the Eastern RI Conservation District. Their role is to guide the coalition, seek funding for projects and provide long term strategic objectives.
Our free membership is open to any Rhode Island organization, pubic, private or governmental, that supports our work and encourages the use of green infrastructure. You can see a list of our members here and you can become a member by contacting Sara Churgin at schurgin.ericd@gmail.com. To join our mailing list contact Lauren Carson at lcarson.ericd@gmail.com.
The Green Infrastructure Coalition is committed to nature based solutions for cleaning runoff pollution.
Creating projects
Leveraging policy in state and municipal governments
Educating others about the movement of rain, snow, and resulting stormwater through the urban and suburban environment

Thank you to our funders:
Rhode Island Foundation
van Beuren Charitable Trust
Prospect Hill Foundation
Environmental Protection Agency