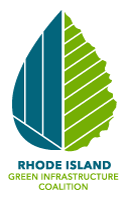 Play Slide Show


Image Credit:
Dave Gerraughty
The Coalition on Facebook
---
Image Credit:
Woonasquatucket River Watershed Council
Flooding
Floodwater fills Merino Park in March 2010
Location: Merino Park, Providence
Our Focus
Green Infrastructure Coalition projects focus on urban areas of Providence-Metro and Newport-Aquidneck Island while our objective is to encourage and acknowledge GI projects statewide. Training opportunities, up-coming hearings, and events reach across Rhode Island.
The Green Infrastructure Coalition
The RI Green Infrastructure Coalition's 37 members advocate, construct, and support infiltrating and naturally treating storm water. We foster implementation of green infrastructure in urban communities to improve the environment and create local jobs.
We advocate for private, statewide, and municipal funding to plan and build projects that mitigate stormwater flooding, provide climate change resiliance, and improve water quality. Our advocacy uses already-built projects around that state to demonstrate potential for protecting water quality and human health from bacteria, oil and road-spills, sand, nitrogen and other pollutants carried in stormwater.
Green infrastructure construction varies from simple residential rain gardens to municipal engineered street sewer diversions.
We foster Green infrastructure through education, support for funding – grants and bonds, models of working with governments, and best-available information.
Why is this Critical Now?
Stormwater is not a new problem. EPA and the RI DEM have worked for decades to address stormwater pollution, the leading cause of water quality impairments in the state. But the reality of climate change exacerbates the problems of stormwater management. Rhode Island has seen increasingly intense storms -- the number of extreme precipitation events (> 2 inches of rain in less than 48 hours) occurring annually has doubled since 1914. These storms increase the risk of inland flooding and strain the state's "gray" stormwater infrastructure. Intense storms impact the local and state economy. In Newport, inland flooding combines with coastal flooding, and the impacts on residents, businesses and tourists are significant.

Read More
Green Infrastructure & Economy
From residential rain gardens to large public works, green infrastructure engages financial transactions. Beyond the obvious that any construction generates economic activity, implementing green infrastructure projects develops a skilled workforce, stimulates an economy across the entire landscape supply chain, invests in the capitol of engineered features, enhances tourism, and opens continuing opportunities for the extensive work needed to retrofit the urban and suburban landscape to infiltrate stormwater to beneficial use.
Jobs
The long-established nursery component to RI agriculture has been an economic engine in our state, accounting for more than half of the state's agricultural economy. The propagation and growth of plant stock for landscaping requires labor and skills that add radiating value.
The Rhode Island Nursery and Landscape Association is the umbrella organization for the $2.5 billion dollar agriculture and plant-based industries in the state. We represent nearly 500 green industry members who include nurseries, landscape contractors, arborists, masons, garden centers, turf farms, landscape architects and designers, suppliers and allied businesses. RINLA advances the welfare of its members through education, research, legislative representation, certification, support in the marketing of green industry goods and services, and collaboration with allied interests/associations.

Read More
Thank you to our Funders
Rhode Island Foundation
van Beuren Charitable Trust
Prospect Hill Foundation
Environmental Protection Agency