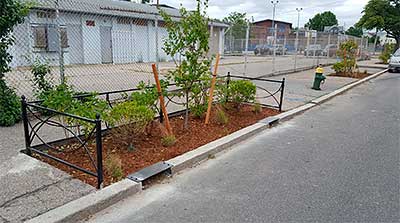 Image Credit:
Groundwork Rhode Island
Curb cuts allow stormwater to be absorbed rather than going untreated into the storm drains.
Image Credit:
Lauren Carson
Brown students (from left) Kai Salem, Grace Molina and Janice Gan researched and designed the Dexter/Bucklin project.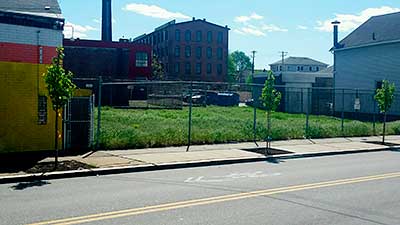 Image Credit:
Dave Gerraughty
Three trees planted near the intersection of Dexter and Bucklin.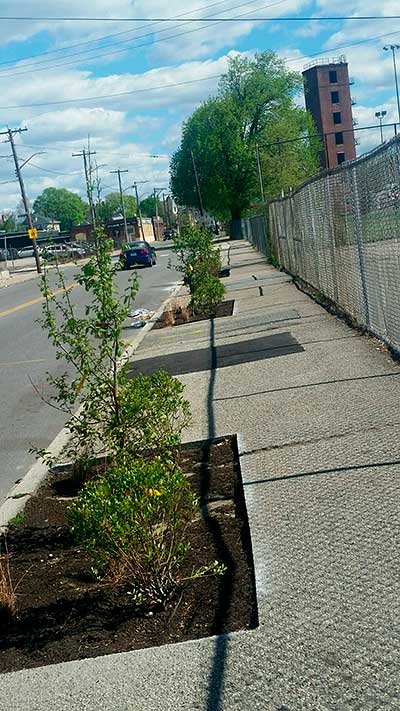 Image Credit:
Dave Gerraughty
A row of small shrubs brightens the sidewalk near a playground.
Project: Sprucing up Dexter
Location: Providence
Description:
The project was researched and developed by a team of Brown University students, working with Clean Water Action staffers.

The students conducted door-to-door interviews with residents, observed areas where water pooled after storms and did GPS mapping of heat island data to determine an urban location where a project could have multiple benefits for the community. They also found funding to pay for much of the project's cost.

The addition of the street trees and smaller shrubs will provide aesthetic improvement and cooling effects while helping to ease street flooding.