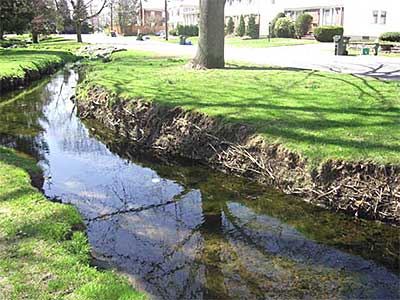 Image Credit:
Alicia Lehrer
Scour along eroded stream bank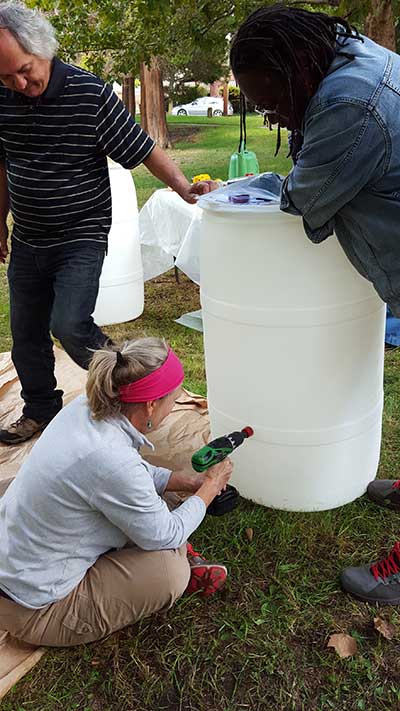 Image Credit:
Kassi Archambault
Pleasant Valley Parkway residents drilled, painted and connected 50-gallon rain barrels on their home downspouts. Using the rainwater collected for gardening helps ease neighborhood flooding.
Project: Pleasant Valley Stormwater Improvement
Location: Providence Map It
Description:
The Woonasquatucket River Watershed Council, through a Partnership with the Providence Parks Department, received a state watershed restoration grant to address stormwater in the unwalled section of Pleasant Valley Stream between Justice Street and Moorland Avenue. The project has two main parts: 1) Installing 5 tree filter systems to treat stormwater from the street before it enters Pleasant Valley Stream. These tree filters combine an engineered structure that works like a standard catch basin to take out sand, grit and trash before stormwater exits to feed a living tree. The tree and the soil it grows in take up nutrients and bacteria while slowing the recharge of the stream which could also prevent flooding.

In the next part of the project, neighborhood will be surveyed for willingness to participate in rain barrel, rain garden, or other diversion technique to infiltrate more water at residential sources into the earth and to reduce the volume of stormwater being discharged into the stream. City youth in the Woonasquatucket Ranger program will be employed to administer survey and install retrofits. We specifically explore connections between climate change, flooding, stormwater pollution, jobs, positively impacting the beauty and livability of neighborhoods, opportunities for recreation that change will provide and the opportunities for Green Infrastructure solutions.

Long range projects aim to open the stream as it flows between hospital campuses and under City's Davis Park and parking lots to enter the Woonasquatucket River in a box cultvert near Paul Cuffee School.